Testimonials
For us, there is nothing better than a delighted customer. And we have lots of them! Here are just a few that let us know how much we meant to them.
---
"Our wedding at Deep Woods Events was spectacular. Not only is the venue amazingly beautiful, but it works for both indoor and outdoor activities. Karol was extremely supportive and helpful. Her decorations were amazing and everything looked fabulous....with very little work on our part. She made sure everything ran on time and coordinated with the DJ and the caterer. Our special day went off without a hitch....and many of our guests said it was one of the most enjoyable weddings they'd attended. The food was delicious and the staff were friendly and attentive. I have attended several events at Deep Woods over the years and would not hesitate to use them again. Wonderful experience."
- Chelle and Mike
---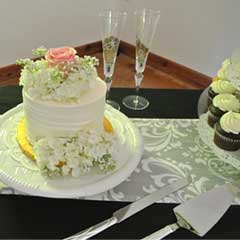 "There are no words that could express how grateful my family and I are for the services you provided at our wedding. I never imagined putting my wedding together would be so easy but you certainly made it feel that way. I'm so thankful for your expertise and all the in-house services you provided. For all the bride-to-be's out there, please seriously consider having your wedding at Deep Woods Events. Not only is the venue one of the most beautiful venues I_Ñéve seen in Lane County, but the level of service cannot be beat. Karol opened up her home to my family and took care of everything we would need for the big day. I didn_Ñét have to buy any dÕ©cor other than floating candles because Karol had such a large selection for me to choose from. I also rented my linens from her (she could get anything I wanted) and she arranged all the flowers for my reception and ceremony. Even last minute changes I emailed her the night before were taken care of without any problems. It was so reassuring to know that my family and I didn_Ñét have to spend the precious moments before or after the wedding setting up or cleaning up because she took care of everything for us. It's been two months now since our wedding and my family and friends are still giving me compliments. I will recommend Deep Woods Events to every future bride I meet. Thank you so much again Karol!"
- Moorea and Kane
---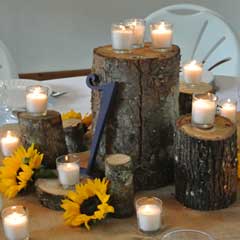 Not only is Deep Woods a beautiful venue, it's owned by a beautiful woman who will make your wedding dreams a reality. In choosing Deep Woods you are choosing to celebrate your love with no worries and no stress, your family will be welcomed by the Deep Woods family and you'll have access to more things than you'd ever dream to make your day as unique as you are. Our day was absolutely wonderful, Karol and her husband worked tremendously hard to give us the day of a lifetime. We are proud to call this venue the place where our lives began as husband and wife and look forward to using the venue again for other special occasions in our future!
- Josh and Nicole
---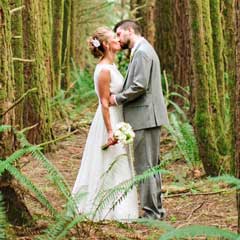 We love the outdoors and our beautiful state of Oregon. We wanted to say our vows in a peaceful, natural setting and Deep Woods was absolutely perfect. The grounds and scenery are stunning. We had an small, intimate ceremony surrounded by lush, flowering gardens and towering Douglas firs. The owner, Karol, was so kind and helpful, and she always responded quickly to my questions and request. I'm so happy we found Deep Woods for our special day.
- Jenn and John
---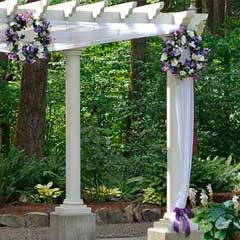 Deep Woods is the best and only venue you will need to check out. Karol is awesome and helps with anything you need. The grounds are beautiful. The bride and groom rooms are amazing and perfect.
- Stephanie and Nicholas
---